During the summer of 2019, I was hired as Udemy's product writing and content strategy intern. In my three months at the company, I worked as part of the design team to help them craft and execute thoughtful and engaging content that fully embodied the brand and vision of Udemy. Here is some of the work I did:
Notifications
For my summer project, I was tasked with examining and retooling Udemy's strategy for notification on their consumer platform. In exploring this system of notifications, I wanted to find out how Udemy could improve its notifications and get them to a place where they feel like a unified, intentional content system?
In my internal and competitive research, I was able to identify a couple key problem areas: The need for a style guide speaking directly to notification use across the platform and notifications settings that were confusing and not customizable.
My contributions included a report on my competitive research and findings, information on notifications best practices, new content suggestions (below) and a content style guide for notifications (samples below).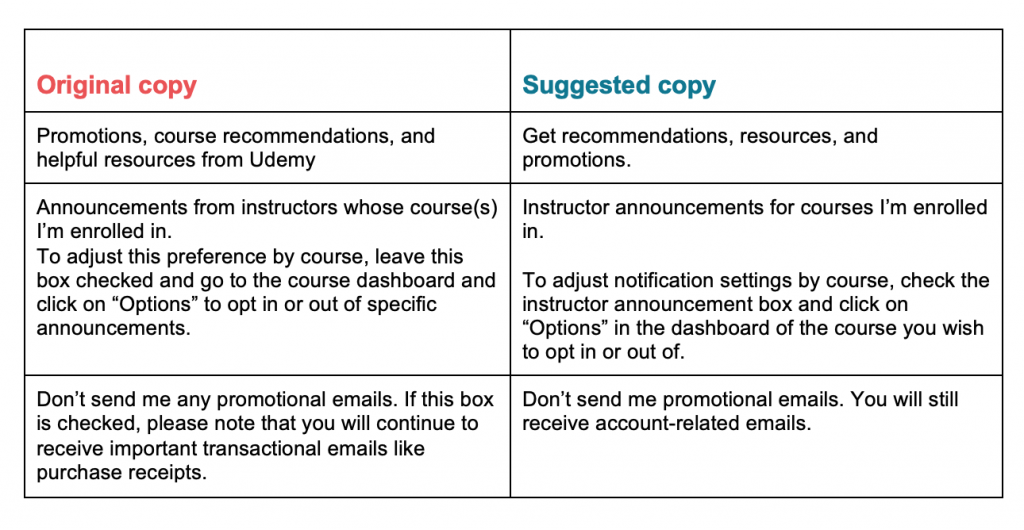 Learning Reminders
Working with our project management intern and several full-time mobile designers and engineers, I contributed a strategic content strategy and writing for a project targeted at getting students on the Udemy platform to log in and learn on a regular basis through targeted, relevant push notifications.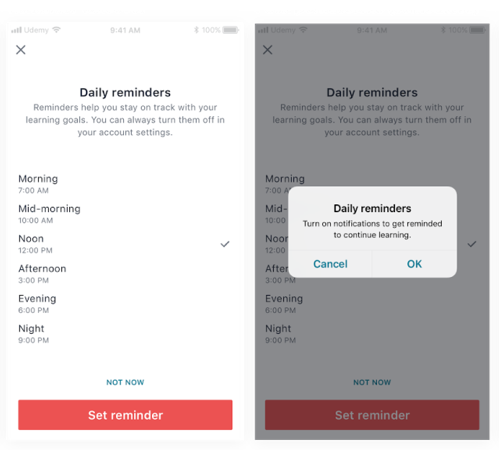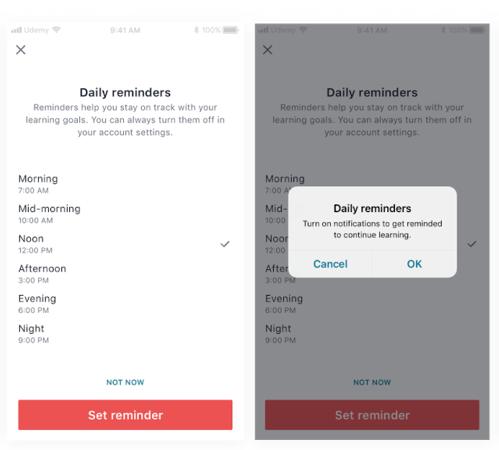 The team designed a mockup of our onboarding flow, with my content written to help clearly and easily guide the user to set up daily reminders by time-of-day. I opted to use descriptors like "evening" and "afternoon" to help users avoid having to select a specific time and instead go for a time period that suits their schedule.
We also worked on a sample of the return flow after setup. The team sought to test with a sample size, appealing to a user's perceived need to achieve small goals regularly and the manageable language of "a little every day."